Description of this experience builder:
This experience builder adds a total of 1900 miles to your nautical experience, divided over two routes of approximately 900 and 1000 miles each.
You can sign up for either one of the two routes, or stay on board and enjoy both routes.
Route A (red) has a distance of 900 miles, and will depart from the Canarian Island Lanzarote towards the beautiful Madeira. After a good night rest, the experience builder will continue its route to Porto in Portugal. Our destination is Madeira is a beautiful island, which should be visited by any ocean going sailor, The passage from Madeira to Porto has a distance of 650 miles, which makes it a quaifying passage for a Yachtmaster Ocean exam.
Route B (orange) takes us back to the Netherlands via the Bay of Biscay. Stops are foreseen in A coruna, Brest, Cherbourg and Zeeland as its final destination. The distance of this passage is up to 1000 miles. These aren't just miles ... but a fantastic complete mix of experiences of long distance day&night sailing, crossing the famous 'Bay', handling the tidal races of France and navigating the traffic in the channel. It doesn't get much better than this !
No doubt, these 2 route on the ocean will be remembered by you as your trip of a lifetime.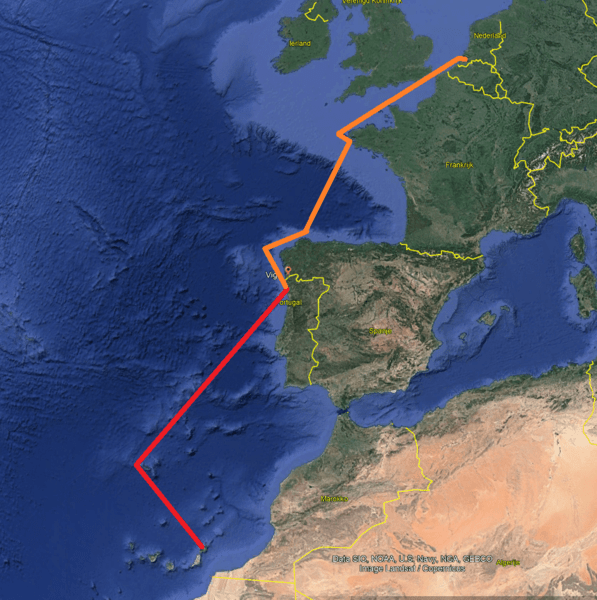 The responsibility to prepare and execute the passage plan for the experience builder will be allocated in turns. This will give you the experience as skipper on long passages during day and night.
This experience builder is classified by us as advanced, and requires solid sailing experience.
Your skipper is an experienced Yachtmaster Ocean.
What do you get at the end:
You will keep an unforgettable experience after completing the routes of the Experience Builder. Your miles (including 600 miles passages) and night sailing hours will be signed off in your personal logbook at the end of the route.
What's included:
Accommodation with shared cabins on a 42 ft sailing yacht
Yachtmaster Ocean skipper
Food and drinks on board, fuel, mooring fees, and your personal travel is not included.
Supporting courses:
We recommend the RYA Yachtmaster Ocean shorebased course, our C-MASTERS Passage Planning course. In addition, the RYA Radar course is highly recommended.
Supporting books:
If you are using this passage to prepare yourself for Yachtmaster Ocean, we'd certainly recommend reading the RYA Yachtmaster Ocean navigation handbook in advance.